We held the second OnFire meeting!
Earlier we talked about our first OnFire in an online format. We decided to continue this practice and we held the second OnFire meeting in remote format.
This time the topic of our meeting was Quality Assurance (QA), where our QA Engineer & Scrum Master Daryna Abalmasova shared her skills and ideas with us. This topic was interesting not only for beginners and already confident QAs, but also for all those who want to develop in this direction.
The presentation "How to Start Seeing Bugs Again" helped our team take a new look at focusing on the right things in testing. The speaker shared real cases and answered the participants' questions. We were also given lifehacks from personal experience and tips on how to avoid mistakes when searching for different errors.
Now everyone who wants to develop has a better understanding of QA, which has increased the overall expertise of the team. Wait for new stories about our training and read the previous news!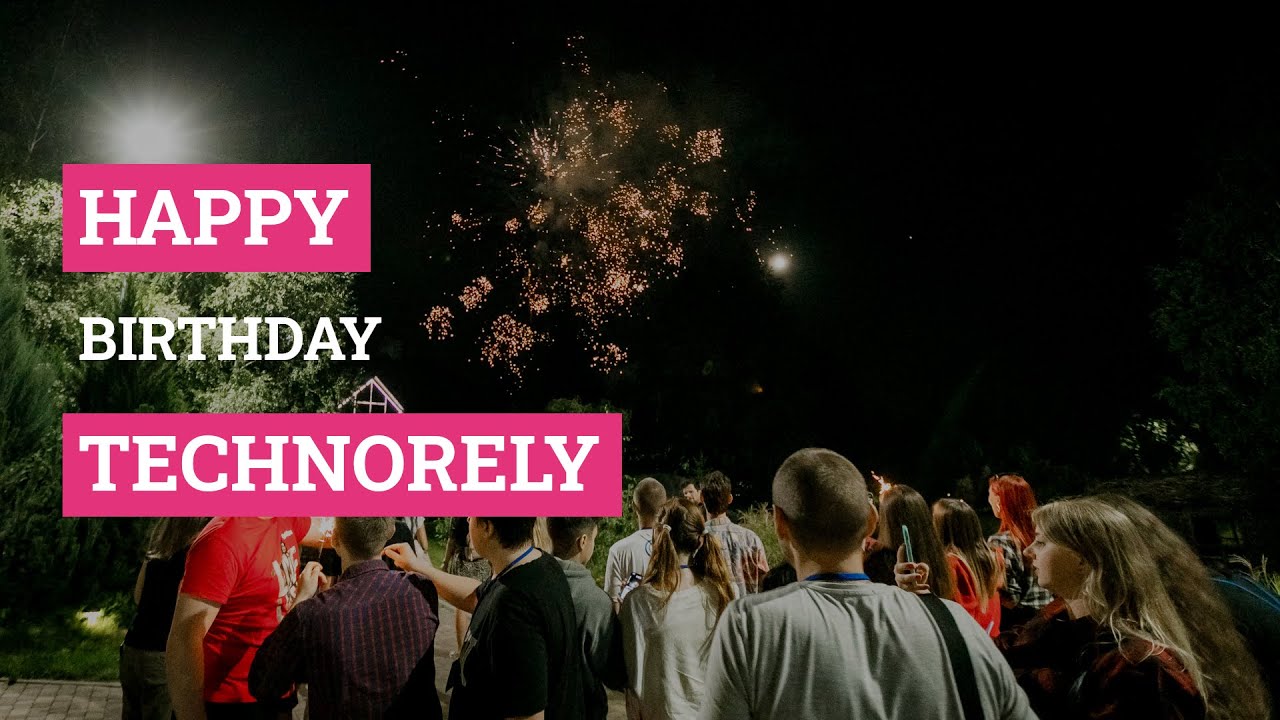 Our Third Anniversary!
Today we are celebrating our third anniversary! 2020 will be remembered for many different events. We are grateful to it for a new unique experience, unforgettable occasions and interesting projects.
Let's remember what it was like:
– 3 projects became our partners;
– we have successfully implemented feature driven delivery on all projects;
– read another lecture at the university;
– mastered work from home;
– we warmly celebrated the wonderful spring holiday on March 8;
– conducted 2 Onfires online;
– successfully completed 6 internships;
– our team has designed, developed and successfully launched our own internal platform;
– shared a video about our corporate values;
– had a great rest during the summer corporate party;
– introduced a new tradition with a gong;
– filmed 6 feedbacks from our team members;
– held a New Year's online corporate party.
And another 20+ projects are expected to start in 2021. This is great! We are grateful to everyone for being with us and believing in us!
...
See More
Happy New Year!!!
We congratulate you and sincerely wish that all your dreams and sincere wishes come true this year. May it be filled with pleasant surprises and joyful meetings, success, and prosperity, health and cheerfulness, happiness and love!
May the old year leave peacefully and sweep away all the problems! The life will play with new, bright colors. Wish you peace and spiritual harmony in the 2021!
Happy New Year!
...
See More
Information Hygiene or How to Deal with Bad News
In the era of digitalization, people have created new ways to influence their mental and emotional health. A study by the American Psychological Association confirmed that almost 95% of our adult population follows the news, and more than half of those surveyed said that they feel stressed and depressed after shocking news. According to the Association, negative news can cause anxiety, sleep problems, increased levels of the stress hormone, and even cause symptoms of post-traumatic stress disorder.
How can you save your inner balance when there is so much negativity in the world? We will tell you in detail about several ways to get rid of the info noise.
1. More Books, Less News
A group of scientists from the University of Sussex has proven that just 6 minutes of immersion in reading an interesting book reduces a person's stress by 68%.
Read more books, because a lot of news will be forgotten tomorrow, and books will always be relevant.
2. Skip the News at Breakfast
Knowing that a successful recipe for news is a fast feed and a negative character, we want to step away from it. So take a break from the informational noise.
3. News in a Smartphone Is Pure Evil
A professor of social studies of science and technology at MIT, Sherry Turkle demonstrated experimentally that people, who read from a smartphone, often complain of fatigue, take useful news worse and also do not keep it in memory.
4. Implement the Practice of Postponed Reading
If you see an interesting article or news, do not rush to read it immediately. Save it in any convenient way, collect a whole log, and view them all at once in one day. You will be surprised that most of the saved information is not so interesting and necessary for you.
5. Review Your Subscriptions
There are tons of unnecessary information in social networks. Review your subscriptions to determine which ones will be useful to you and which ones should be unsubscribed.
6. Install an Ad Blocker
Install an ad blocker. We can recommend Adblock, which supports most browsers and mobile platforms.
7. Focus on Local News
Watch the local news. As a rule, there are fewer of them, and they are more important to you. You can also limit yourself to professional news and hobbies.
8. Be Skeptical of News from a Single Source
Do you often look at the news from different angles? Yes, it is time-consuming but most sources lobby for their opinion, and it is not always unprejudiced. The next time you hear big news, look for more information about it, its author, and its participants. This will give you a better understanding of what is happening and the points of view of different parties.
Information overload is a new disease of the 21st century. The amount of news you receive can greatly affect a person's physical and mental health. Protect yourself with these 8 rules of information hygiene, and you will notice an increase in productivity the next day.
...
See More